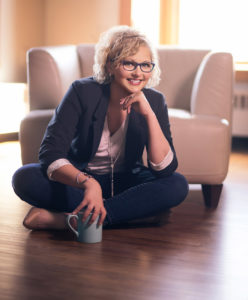 It's no surprise that with today's busy lifestyles, families are more stressed than ever before. Struggling to juggle the daily personal and professional obligations, hectic kid activity schedules, and the regular care and upkeep of a home are now the norm. We know what it's like, and it is our passion to bring relief to busy families.
Every day, we are helping to create organized and functional spaces, assisting in meal planning and preparation, managing the maintenance and upkeep of homes, and removing some of the daily obligations like laundry and errands off parents' to-do lists. If this sounds all too familiar, we would love the chance to meet you and discuss all we have to offer.
Your friendly concierge,
Ashlee Ferguson
Queen City Concierge Founder
Ashlee has a real passion for helping people get control of their time and enjoy their lives more. Whenever she talks about her work, her face lights up! I recommend her to my staging clients who need a service like hers without hesitation.
Excellent service! Five stars all the way! Perfect for busy families!
Ashlee is a very professional, driven woman. She is well organized and a good person to work with.
I have used Queen City Concierge a few times. Each time I've been blown away by the quality of work. To give one example of how they helped me personally, my husband and I put off organizing our basement for a couple of years. It had become a disorganized collection of stored items. We finally decided it was time to get it in order but we were both overwhelmed and did not know where to start. Ashlee came over, assessed the situation and knew right where to begin.
Queen City has been such a lifesaver for our family. They have not only tackled many organizational projects in home such as the garage and storage room, but also have assisted with parties, running errands, and taking down and organizing holiday decor. The list really goes on what they have down to help with our family needs. It has allowed me to be able to spend more time with my baby and other children and not be spending so much time on tedious tasks that would otherwise get done haphazardly. I highly recommend Queen City to alleviate any additional work you need help with to help you get your life organized and back in order. They will lighten up your to do list and give you more time to spend with the ones you love!!